When one of the major trends of basel 2017 is an upgrade as a more wrist-friendly dive watches, there's no doubt that big and bold is still the name of the game. replica omega's latest po, the "big blue", delivers on both fronts, thanks to its huge 45.5mm wide by 17.8mm high case made from bright blue ceramic. why big blue? well, apart from the obvious point, you will find that it's a piece of homage to a super funky (and super collectable) omega diver's chronograph from the '70s.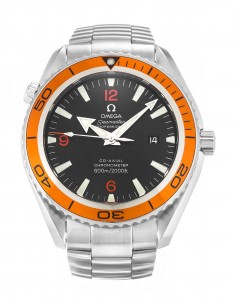 this big blue continues from release of the fully ceramic "deep black" of last year, itself an evolution of successful ceramic speedmasters, notably the dsotm. from all this activity we can deduce that omega is increasingly serious about integrating ceramic in a big way, well beyond bezels, movement components and the odd limited edition. so what is the reason? if you've got the technical know-how and production capacity, you might use it as well. the case and dial of the big blue are made from pigmented zirconium oxide powder that's sintered into an ultra-hard ceramic, then machined with diamond tools and plasma-treated to its final shape
beside of the impressive case that the watch has, the calibre 8906, with gmt complication, meets omega's master chronometer standards, some of the most stringent in the industry. so it has what it takes inside and out, but what's this watch like on the wrist? well, it's not one for the faint of heart. this is not a stealthy blue, and the orange elements remove any possibility of this watch flying under the radar. if the fearless use of color hasn't sent you running for the hills, i suspect you'll love this newest replica watches. the orange accents are amazing, especially the piping on the woven-look rubber strap. if you're after a watch to start a conversation, big blue is one fit best.